While it may seem like a lot of steps, adding a PDF to Your Page or Post can be pretty painless. The process is similar to adding a photo and will get easier after each time you successfully upload a PDF. Here are the steps:
Adding a PDF to Your Page or Post
Step 1. Navigate to an existing Post or Page or create a new Page or create a new Post.
Step 2. Click into your Page or Post where you want your PDF link to go.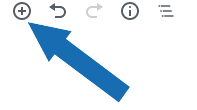 Step 3. Click on the Plus sign button at the top left of the editing screen. This will open a small window of Content Blocks. At the top of the Content Block window is the option to search for a block. If you don't see File in the first 9 block options, type the word file in the search field. Click on the File icon to navigate to the PDF you want to add to your page or post.